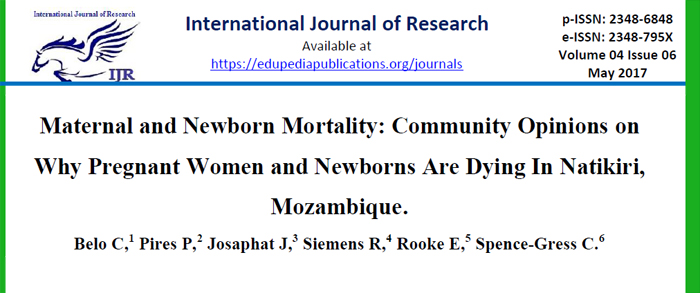 Belo C, Pires P, Josaphat J, Siemens R, Rooke E, Spence-Gress C.

ABSTRACT

Background and objective: maternal and neonatal mortality rates in Mozambique are high, due to insufficient numbers of qualified health workers, lack of equipment and materials, referral system deficiency, difficulties to access health services and gender issues. This study assesses the barriers to health care access, regular attendance at ante natal consultations, institutional delivery and postnatal and neonatal follow-up. This is part of the baseline study for an implementation research project to reduce maternal and neonatal mortality in Natikiri, Nampula, Mozambique.

Methods: descriptive mixed study with two components: 1) data analysis from primary sources (interviews and focus group discussions with community members, health professionals) in the catchment area of Marrere health center and hospital, in Natikiri; 2) data analysis of secondary sources (national and international literature).

Results: 300 people were surveyed and 11 focal group discussions were held. Respondents were asked why they thought pregnant women and newborns were dying in their community.

Palavras-Chave: Access, prenatal, consultation, pregnancy, puerperium, newborn, Mozambique.

 


Artigo completo